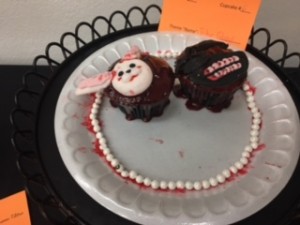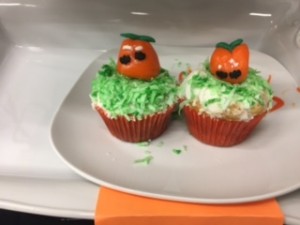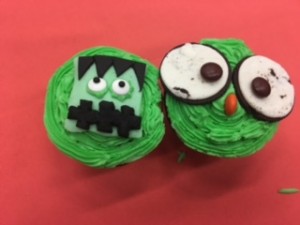 Cupcake? Wars? Yes, Culinary Arts II-III classes climbed the top of that candy mountain. Just in time for Halloween, making cupcakes too scary to eat! To further our culinary skills our task was to, in three days, designs, create and bake beautiful cupcakes to be judged on FRIDAY THE THIRTEENTH (not really) I just wanted to add to the atmosphere. Are you feeling it yet Mr. Krabs? We were! Our culinary room turned into the Willy Wonka forest as everything to top our cupcakes was required to be edible.
On our first day around what seemed to be "candy land," the class was divided to make white-as-a-ghost creamy, smooth, buttercream, and cupcakes in two flavors: vanilla and count chocula. Have you ever used twenty-five pounds of confectioners' sugar? Yeah, that is how much powdered sugar was needed for this sweet tooth war. Our teams were those of double, double, boil and trouble or a single cauldron bubble. With a pair of people they were able to present two, to four cupcakes, while the lone werewolf was to present one-two cupcakes.
The race had begun and we were sprinting, to construct a cupcake that was most creative, most scary, best Halloween themed, best plating, and best overall. Our Halloween town consisted of everything from witches, pumpkins, ravished bunnies and maggots. Have you seen the scene in The Wizards of Oz where the witch is crushed by Dorothy's house? Yes, you are correct, the witch was placed gently on top of one cupcake, and under another! The best part of the whole experience was no bad blood (pun intended) between the members of our culinary classes as we cheered each other on in winning the categories.
Did you know Halloween originated in the ninth century being a part of the Celtic mythology to protect the living from roaming ghost? Oh here is another quick trivia fact before I end this paper the fear of Halloween is known as Samhainopobia, (Samhain the pagan holiday for Halloween. Samhain is a festival of the Dead. Meaning "Summer's End". )
At last our creatures were ALIVE (Frankenstein no?) and everyone won, well, because we got to eat the cupcakes after!  Those best of the best monsters claimed their trophies and crawled back into the coffins and the masters walked off with a sweet treat. All the "Nightmare Before Christmas" was put to sleep, waiting for the next year of cupcake wars, Halloween edition.
-Mariah Harman